Refund Policy (Update 3.1.2023)
Online digital products:
Thank you for your purchase. We hope you are happy with your purchase. This document has been made to simplify & clarify our Returns & Refund Policy. However, if you are not completely satisfied with your purchase for any reason, you may address your concerns at: in**@ri**************.net. As a ground rule - We offer no money-back guarantee for any of our books, merchandise, or of our digital products as a policy. Please see below for more information on our return policy.
Some products that might be covered by a Limited Refund Policy have a 3-day refund period. If you do not receive your welcome instructions right away, please notify us so that we can make sure you get started well within the 3-day period. If you are not satisfied with your program, a refund may be issued within 3 days of the purchase date. The 72 hours countdown begins from the time stamp of the purchase period. You, the buyer, may request a refund from our client care team by email or through Contact Us page prior to midnight WET (Western-Europe Time Zone, Lisbon), on the third day after the date of purchase. No refunds will be issued after 3 days from purchase.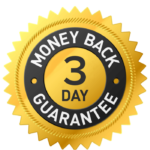 Printed Books, Printed Materials, and merchandise:
No refunds are being offered by Richard Lionheart Enterprises Limited for any of the physical products ordered through the official website and official partners' channels. The company will not be held responsible for damages by the shipping carriers. In case you have an issue that doesn't deal with the content of the product, you may contact us by email or through Contact Us page
Livestream & Livestream Replays:
No refunds will be issued for these purchases. If you experience bandwidth or streaming issues, replays of live events are always available within 2-3 weeks. If you are not satisfied with your program, a refund may be issued within 3 days of the purchase date.
Event Ticket Purchases:
If Richard Lionheart Enterprises Limited cancels a live, on-site event, Richard Lionheart Enterprises Limited will give participants the option of having their money refunded or applying their payment to future events. If the event is canceled due to events outside of Richard Lionheart Enterprises Limited's control, the ticket purchase price may only be applied to either the rescheduled event or another future event. If you need any clarification regarding this policy, please request further information through our Contact Us page prior to ordering!
RETURNS POLICY
Fashion Products: All returns must be postmarked within [7] days of the purchase date. All returned items must be in new & unused condition, with all original tags and labels attached.
Printed Books 3rd party websites: See the guidelines on their platforms.
Printed Books on our website: No Returns are applicable.
Digital Courses: No Returns are applicable.
REFUNDS
We offer no refunds for printed books, digital products of any kind, or merchandise that is been shipped by one of our partners or in one of our own platforms. Please make sure you have the size correctly, and that you do wish to gain benefits from our products and service prior to purchasing. Basically, we are saying: "get your shit together beforehand!"
For personal or group sessions purchased – If you haven't started the course, and decided to withdraw within 7 days of the scheduled session you will be refunded 90% of the payment (minus registration and other fees). If the cancelation has been made within the 7 days period of the first appointment (less than 7 days from the starting date), no refunds will be applicable here.
For the "Ask Don Ricardo" Service – No refunds will be applicable once the purchase has been made. If you ordered it by mistake, contact us at: Su*****@ri**************.net with no guarantee of a refund.
If a return & refund will be approved, after receiving your return and inspecting the condition of your item, we will process your [return] or [exchange]. Please allow at least [30] days from the receipt of your item to process your [return] or [exchange]. Refunds may take 1-2 billing cycles to appear on your credit card statement, depending on your credit card company. We will notify you by email when your return has been processed.
Contact. If you require any further assistance regarding this policy, please contact us through our Contact Us page